Start! Issue 6
King's Entrepreneurship Institute
Sector
Education

Role
Creative Lead
Illustrator



About the Client
King's Entrepreneurship Institute has existed at King's College London since 2015 to support entrepreneurial thinking, skills, and start-ups for King's students, staff, and alumni.

Start!, a supportive, career-enhancing annual magazine from Entrepreneurship Institute (EI), offering young adults a resource that helps in developing an entrepreneurial mindset, from interviews with world-class leaders in entrepreneurialism to workshops and events held at the institute.



Brief
To create a new visual identity and contemporary editorial design for the future issues of Start! that builds on their current branding while paying homage to the EI's roots to express, learn, and empower its readers.

(1) Increase in the magazine's relevancy on campus (37% in next student awareness survey), whilst reaching and engaging with new audiences.
(2) Showcase, educate, and upskill the audience on the work of the institute. Translating this into further interest and engagement to the institute's annual programmes and events (25% increase in registration through Eventbrite)


Research & Inspiration
Inspiration for the magazine structure came from reading Grid Systems in Graphic Design by Josef Müller-Brockmann. Who speaks about the creation of visually interesting compositions that you're able to form on-page that can still be functional and balanced. While I also had admiration for the 'swiss style' of design particularly the understanding of space and application of sparse typographical layouts.




Outcome
The redesign has taken a visually lead approach, with greater use of illustration, photography, and infographics. The magazine pushes this through with a bold artwork on the front cover that uses type and image for maximum graphic impact. This approach also came with a 42% increase in the institute's awareness in the 2020/2021 student awareness survey,

Inside the magazine, we've introduced a navigable structure that has numerous entry points, with data points, pull quotes, and spot illustrations. Giving an active but richer publication to read.
A flexible 3-column grid was introduced, a functional and practical system that creates symmetry in form between typographical elements, while becoming an identifiable design associated with Start!. The system allows space for In-depth articles to image lead interviews, creating a digestible read to first-time readers.
All fonts, logo usage/placement, and colours were used in accordance with
King's brand guidelines
from 2020.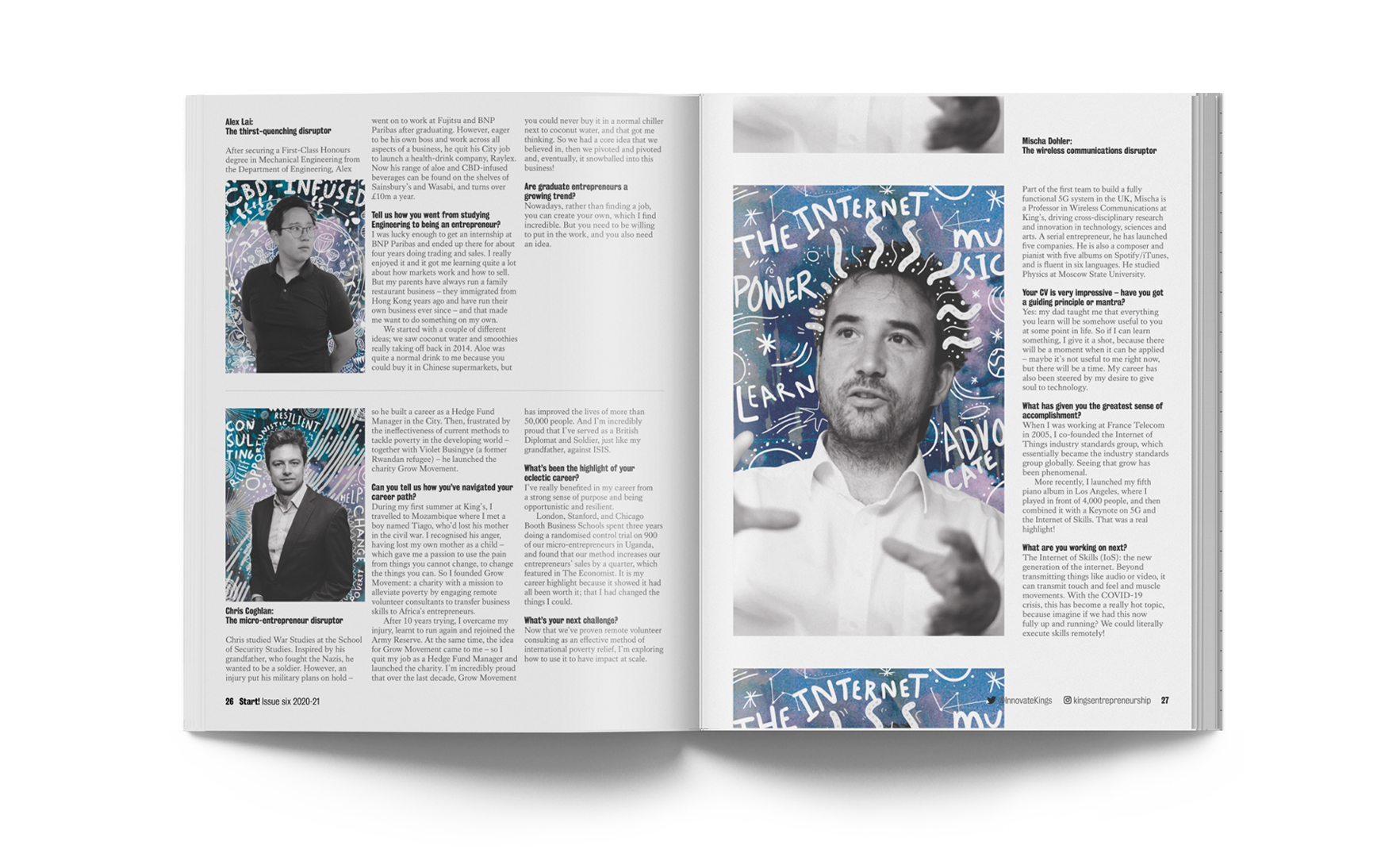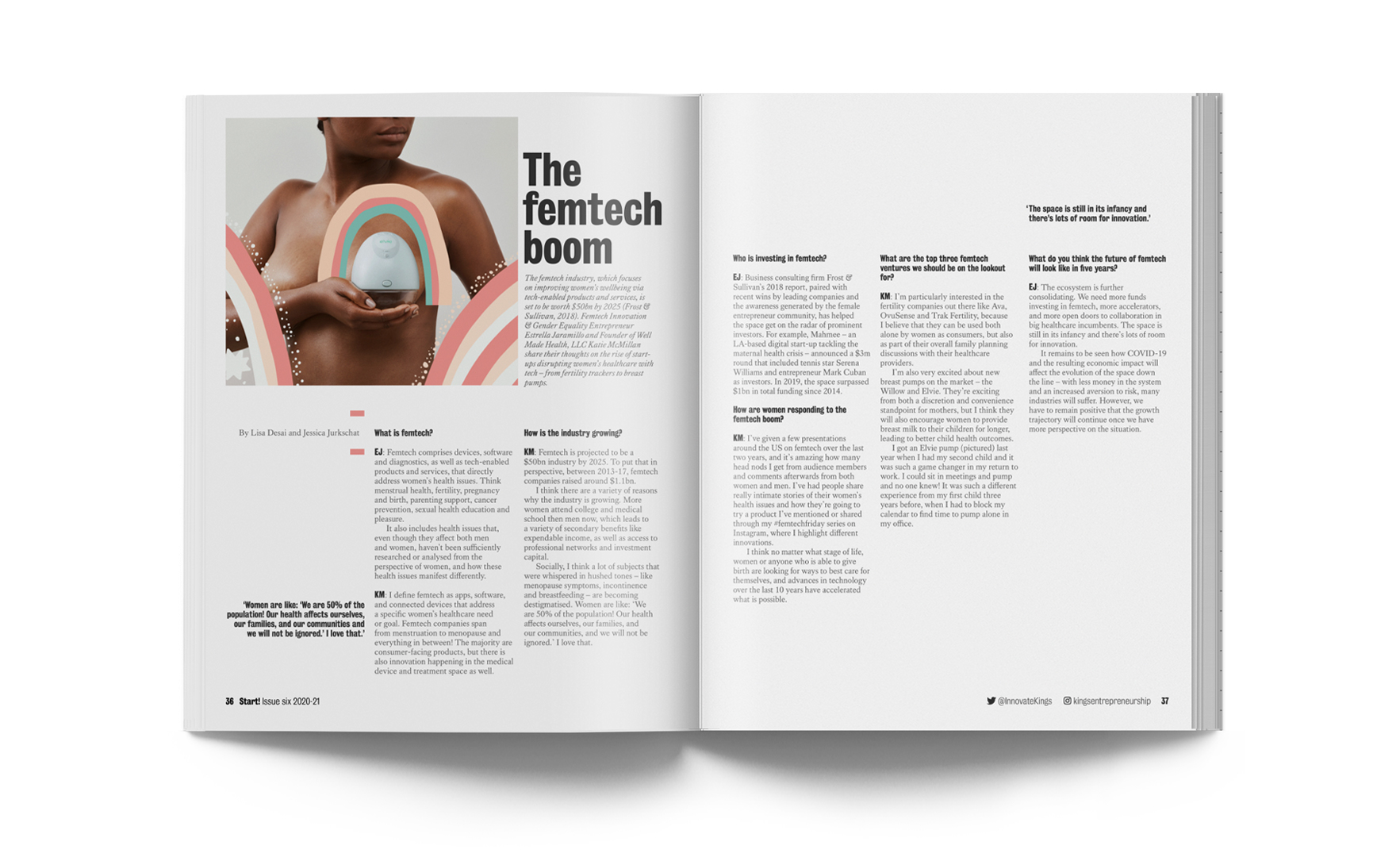 Grid System
To assist in our communication I implemented a 3-column grid, this became the foundation to the layout of the publication, allowing us to build upwards from this layer. The grid gives us more balance to typographical elements, by keeping the design consistent and even, a pattern that the reader would understand and absorb content from easier.



Illustration picks
A few selected Illustrations (from left (1) to right (3)) from different articles within Start! Issue 6.

(1) Sarah Chen, part of the seven disruptors, the feature article of Start! issue 6, which focused on seven successful entrepreneurs that studied at King's College London. The article speaks of each their journeys and the challenges they've faced on the way along with advice for future entrepreneurs.
(2) Aysha Ingar, third year medicine student who became the winner of EI's Idea Factory, which gave her backing to begin here start up app Muslimah. The colour palette and illustrative elements were inspired from our app.
(3) Gousto CEO and Founder Timo Boldt (pictured, right), speaks on how the company had adjusted to life with coronavirus. Whilst discussing how customer behaviours and habits have dramatically changed in such a short space on time.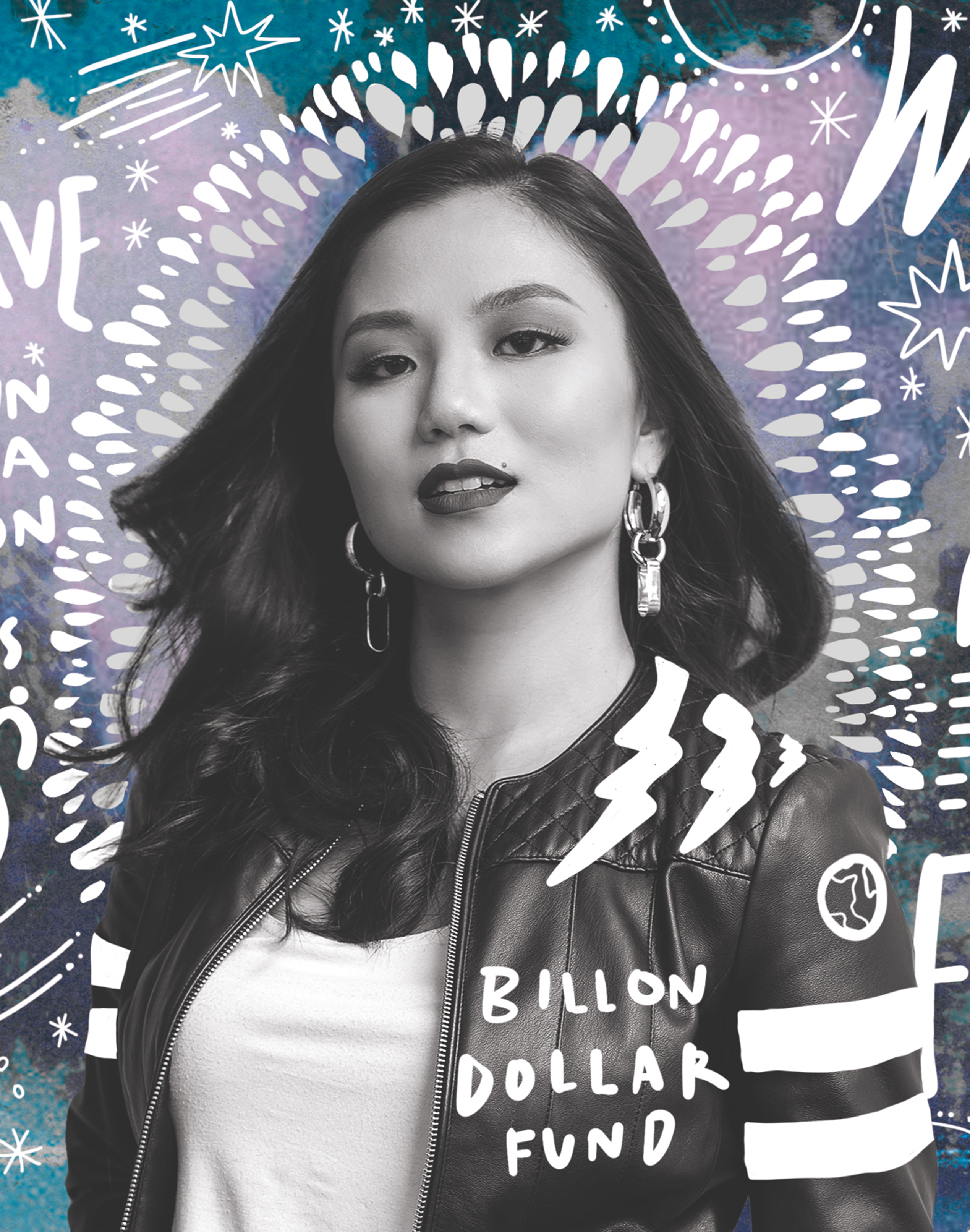 Copyright © 2021 Alfie Stevenson-Kelly.