King's20 Bright Sparks
King's Entrepreneurship Institute
Sector
Education

Role
Creative Lead
Illustrator
Credit
Sarah Mander
Damola Akintunde - Photographer
Logan Poe - Photographer
Nick Ballon - Photographer
Lewis Khan - Photographer



About the Client
King's Entrepreneurship Institute has existed at King's College London since 2015 to support entrepreneurial thinking, skills, and start-ups for King's students, staff, and alumni.

The Institute is known for its flagship Accelerator, King's20, a 12-month programme that supports 20 high-potential start-ups from the King's community. For example, they provide office space, access to investor networking, workshops, and bootcamps, access to grant funding opportunities, and mentorship.


Brief
Kings'20 is now in its 5th year of operation, with September 2020 including a cohort that includes their 100th Venture. This is an achievement that the institute wants to be recognised by the King's community, alumni, and investors. Showcasing the impact and innovation these ventures have delivered across various industries in a short digital magazine.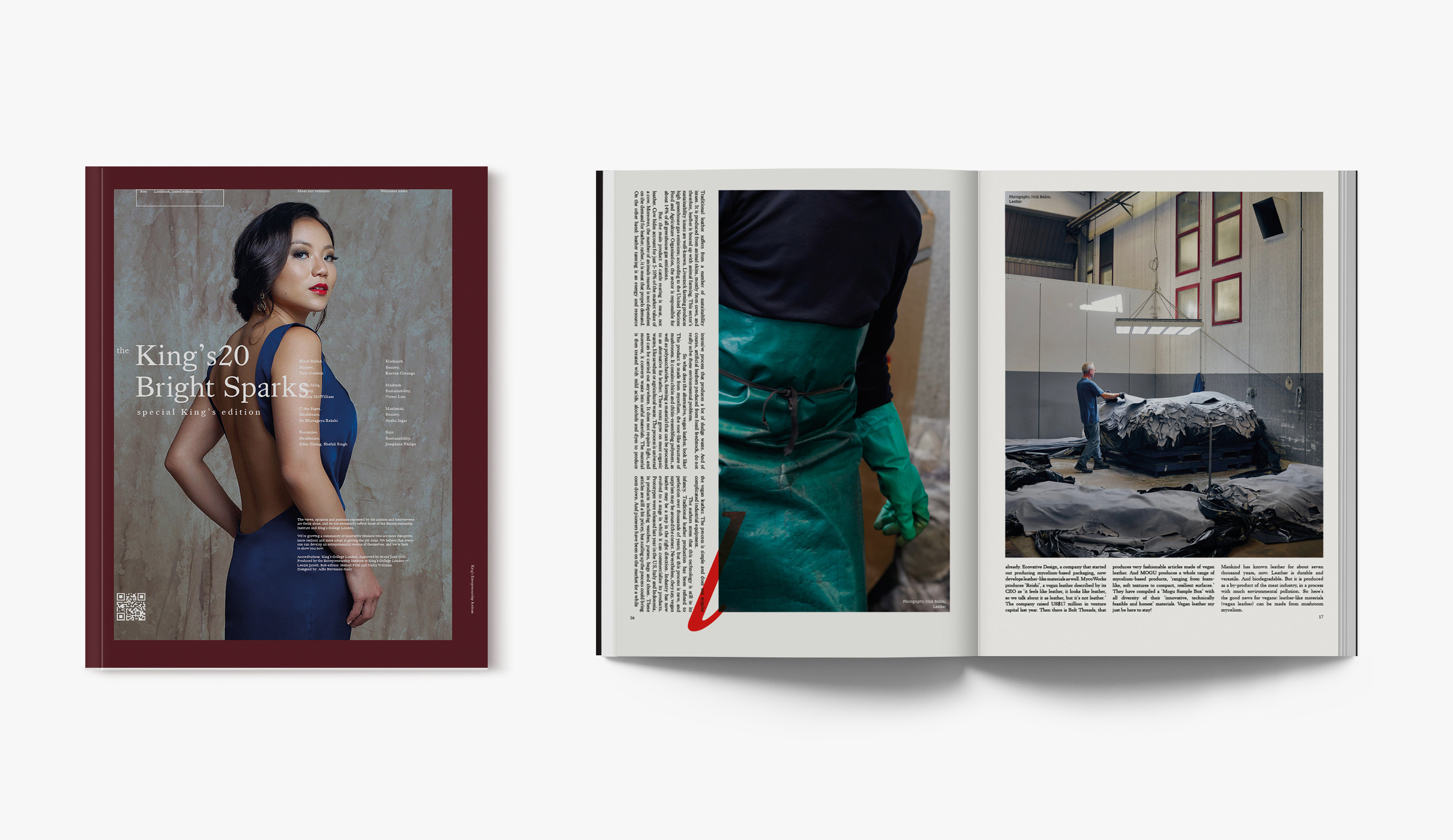 Outcome
I created a short special edition magazine that celebrated the stories of all 100 ventures that have come through King's Collage London.
Stand out features in this special edition were venture capital and innovation leader Sarah Chen, award-winning women's lifestyle journalist and media entrepreneur Tobi Oredein, the 'Deliveroo' of clothing alterations Sojo, and C the Signs – an award-winning tool that uses artificial intelligence to identify patients at risk of cancer at the earliest and most curable stage of the disease by Bhavagaya Bakshi.
I introduced a flexible 12-column grid as a foundation for organising visual elements in the magazine. This special issue is filled with content, but the layout and approach taken offer multiple entry points for the reads, with spot illustrations, pull quotes, and negative space. With a large amount of content being shown, there are numerous visually lead pages that give the reader a break and breath of fresh air before diving into further interviews.
A motif was introduced across the magazine, which was used to accent each page and give each start-up a uniform look using the famous London bus red that King's is known for, while allowing the magazine to look and feel similar. Each motif would be the first letter from the industry or product they work within or sell.
Graphically, I was restricted to King's brand guidelines. The purpose and intentions of this are that the entrepreneurship faculty feels part of the King's branding. The magazine is, however, able to hold its own identity with the usage and placement of typography. Using King's Caslon and Inter in its variety of weights and styles.
Results
Due to Covid-19, the magazine will stay as an online publication. However, the results of the digital magazine had 61.1% of people read the entire publication from front to back (Recorded from January 2021 – March 2021). On social media, the magazine received 23,499 impressions on Twitter from 4 tweets.
Illustration for King's20 Bright Sparks magazine
---

About the article

How second-hand clothes can change the relationship you have with yourself. A short article from Sojo founder Josephine Phillips, discussing the positives and importance of sustainable fashion in today's society.
Approach

Using a collage technique, the style seemed fitting and appropriate to and discussing recycled material. As the media is analog, giving a rough and ready look and feel. Removing the face of the model was intentional, the empty space would allow the audience to imagine themselves filling in this area. Whilst making the garment a key focus to the illustration.
Copyright © 2021 Alfie Stevenson-Kelly.